Avon Dassett Community Benefit Society have produced a special 'Avon Dassett' charity card for the village.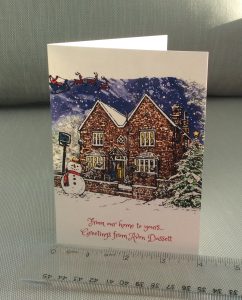 The cards are of high quality and all profits from the sale will go to the Alzheimer's Society.
There are two versions available with the wording 'From our home to yours' (pictured) or 'Sending you the warmest of festive wishes from Avon Dassett'.
The cards are available for 75p per card, or 10 cards for £6.50. If you would like some cards please contact Sandra Sandiford (WhatsApp/mobile 07946 530923) and they will be delivered directly to your door.