Soap Box Derby 24 June 2023
The next Avon Dassett Soapbox Derby will take place on 24 June 2023.
Entries are now open:
If you have any queries, please contact us.
Our nominated charity for 2023 is The Children's Christmas Wish List
For more information check here or see our Facebook page @AvonDassettSoapboxDerby.
Supporting The Yew Tree – A Community Owned Pub
The Yew Tree – a Community Benefit Society owned pub
In 2017 the community of Avon Dassett bought the Yew Tree Pub (then The Avon) to stop it being sold for housing. We couldn't have done this without the help of the Parish Council and the Plunkett Foundation and related partner organisations. The Parish Council successfully applied for an Asset of Community Value Order to be placed on the building to prevent it being sold and allowing time for the community to organise itself and raise funds.
Following advice and guidance from Plunkett we created a Community Benefit Society and registered with the Financial Conduct Authority. We adopted Plunkett's model rules and prepared business plans and a prospectus to sell shares to raise funds. Plunkett put us in touch with partner organisation such as Power to Change and Key Fund which provided grants and a loan to the value of £100,000. The remaining £300,000 needed to buy the pub was raised from the sale of shares.
We operate on the principle of "one member -one vote," to avoid anyone having a greater influence in the Society than anyone else. We created a Management Committee to develop a strategy and to steer the operations of the Society, including running the pub. The decision was taken to adopt a tenancy model where the tenant lease the premises from the Society and is then left to run the pub.
Without the Yew Tree, the village would have no focal point for social activities, but the Society recognised that there was a demand for "more than a pub" activities, something actively encouraged by Plunkett. As a result many "more than a pub" events are organised in and around the Yew Tree, the biggest of which is the annual Soap Box Derby that attracts hundreds of participants and spectators to the village, whilst raising money for local charities.
We continue to develop the pub and encourage new clubs and societies while seeking new members to join us. If you want to own a piece of a village pub and become a member of a vibrant community organisation please see our website for more details.
www.avondassettcommunitybenefitsociety.co.uk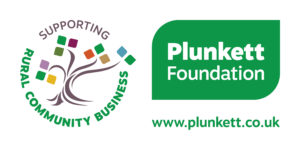 Soap Box Derby 2022
Having been cancelled for the past two years because of government restrictions, the Soapbox Derby returned on 25 June 2022.
We had a record entry of 35 karts and a brilliant turnout of around 3,000 spectators. In addition to the racing, there was a street market, food and drink at The Yew Tree who also hosted a live band for the evening.
Our nominated charity The Children's Christmas Wish List raised £1,100 – many thanks to all the donors.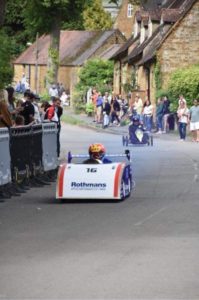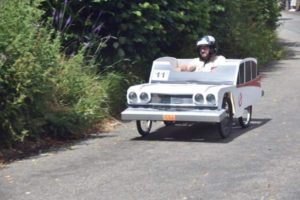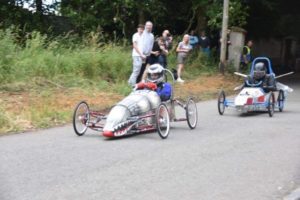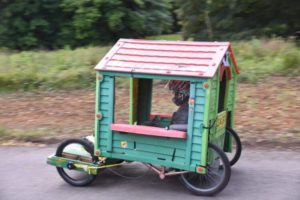 Junior Winners
Callum Lugger, BDS Bullet (Upper Boddington)
Jacob Sandiford, BDS Bullet (Avon Dassett)
Max Merry, Wasps Racer (Weddington)
Senior Lead Driver Winners
Richard Burton, Acceleramus (London)
James Savage, Team Savage (Evesham)
Carl Marshall, R.C. Racing (Northend)
Senior Second Driver Winners
Robert Welford, R.C. Racing (Northend)
Chris Sandiford, BDS Bullet (Avon Dassett)
Ben Winrow, ProFormance Metals (Daventry)
Virtual Soap Box Derby 2020
We held a virtual/online event on the Facebook Page @AvonDassettSoapboxDerby on the original date of 20 June 2020.
Please visit the Facebook page to check out some photos and videos from epic Soapbox Derbies from the past decade!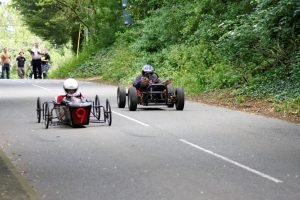 To find out about other Soapbox Derby races visit: http://scottishcarties.org.uk/
Soap Box Derby 2019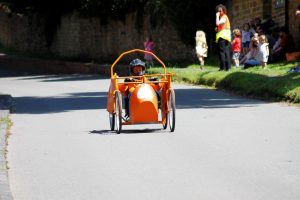 Avon Dassett Soap Box Derby took place on 22 June 2019. There were a record number of entries in both junior and senior classes. The senior races saw the return of the head-to-head racing with a number of close finishes. The race raised £777.32 for Zoe's Baby Place Hospice in Coventry, £500 for Fenny Compton Explorers and £200 for Fenny Compton Church Roof Fund. All costs were covered by entry fees, sponsorship and grants with all donations from the public going directly to the charities and local groups.
Junior Winners
Megan Taplin, BDS Bullet (Avon Dassett)
Jamie Welford, Red Lion Racing (Northend)
Frank Whatcott, Jim Clark Special (Bishops Itchington)
Senior Lead Driver Winners
Richard Burton, Acceleramus (London)
Ben Gascoigne, Project Nein (Coventry)
Phil Baxter, BDS Bullet (Avon Dassett)
Senior Second Driver Winners
Gareth Woolford, Project Nein (Coventry)
Ben Weir, BDS Bullet (Avon Dassett)
Andy Whyman, Red Lion Racing (Northend)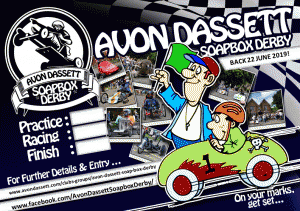 Soapbox Derby 2018
The much awaited return of Avon Dassett Soapbox Derby took place on a bright sunny day on Saturday 23rd June 2018. For the first time, there was a children's race, starting from St John the Baptist Church. It was a closely fought race with only half a second separating first and second place! The race raised £1000 for Zoe's Baby Place Hospice in Coventry.
Junior Times
1 Joseph Whatcott, Bish Bash Bosh 37.46
2 George Coe, Old Hooky, 37.96
3 Lily Rogers, Betty, 49.88
4 Samson Cox, Betty, 55.90
5 Ollie Fletcher, Bobby. 1.01.43
6 Max Fletcher, Bobby, 1.26.49
The senior race was fast and furious. There were a couple of spills but no one was hurt. In the end, Imperial Leather Racing with their kart, Project Nein, bagged 1st, 3rd and 4th place with local driver, Phil Baxter in the Baxter Development Solutions kart, BDS Bullet in 2nd place. The top five racers, including David Nicol with his kart, Fast and Fabulous all completed two runs of the course in less than a minute per run!
Senior Results
1 Hugo Mazzolini, Project Nein 1.41.18
2 Phil Baxter, BDS Bullet 1.42.65
3 Gareth Woolford, Project Nein 1.43.75
4 Ben Gascoigne, Project Nein 1.44.52
5 David Nicol, Fast and Fabulous 1.59.56
6 Carl Beasley, The Screaming Eagles 2.04.79
7 Mike Freeman, No Pedals 2.06.16
8 Sean Steenkamp, The Rat 2.07.35
9 Paul Mourant, No 6, 2.24.50
10 Jack Gammon, No 6, 2,30.12
11 Bleddyn Clarke, Daddymobile 3.02.45
12 Richard Adams, Black Dog 1, 3.11.72
13 Andrew Brewin, The Shed, 3.28.72
14 Chloe Priest, The Beast, 3.57.85
15 Marc Steenkamp, The Rat, 5.04.63
Donations to our two charities: Zoe's Baby's Place, Coventry and Southam ATC totaled £1300!
Soap Box Derby 2015
The 2015 event took place on Saturday 20th June. In spite of the appalling weather, and having to abandon the races on safety grounds, the Avon Dassett Soapbox Derby raised £2500 for BLESMA and £500 for Macmillan Nurses, the supported charites.
Many thanks to Colin Smith and Graeme Miller who worked tirelessly to organise this year's event.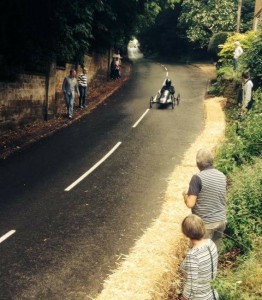 See this report from the Lentus team for information on the challenging conditions.
Report from the Chairman of Avon Dassett Soap Box Derby
THE CART RACE 20TH JUNE 2015.
The total raised from the event was £3750.00 less expenses for food and drink and printing etc., the amount available for donation was £2000.00 to BLESMA and £500.00 to McMillan Cancer Support.
The race itself was somewhat brought to any early end due to a massive downpour about 1430 hrs which brought things to a standstill for the best part of an hour.
When racing resumed there was a large amount of standing water on the course and the Race Director with my full backing decided that it was too dangerous to continue and stopped the race.
The good side was we raised a large amount for our charities due to the help of Vicky and Alistair from Fenny , Kevin Dancer, Tony Parks and Jerry Davies and above all the support of the British Army who without there support the event would not have gone ahead.
For the future, Colin has stood down as Race Director, but I have a number of experienced motor racers who want to help, also BLESMA want to enter a cart with a limbless veteran driving.
I have had contact from existing racers who want the race to continue as it is the only race where they can race head to head with other carts. All this is subject to the Avon being open and me getting support from them and also having a dedicated support team on side.
I am also considering a Kiddies' race starting from the Old School House but all this depends on getting people on side to help.
So the bottom line is that the race can go ahead but only with the support of willing dedicated helpers.
Once again my thanks to all who helped and I will make a decision re. GO or NO GO in Jan/Feb 2016.
J. G. Miller, Chairman Avon Dassett Soapbox Derby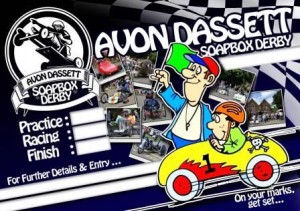 Supported Charities
Each year, the Soap Box Derby raises thousands of pounds for good causes. Every year, 75% of proceeds are donated to Blesma and the remainder is distributed to other supported charities. This year, the supported charities will be Blesma (75% of proceeds) and Macmillan Nurses (25% of proceeds).
Report on 2014 Soap Box Derby
The ever popular Avon Dassett Soap Box Derby took place on 14 June 2014. It was a bitter sweet occasion this year following the sudden and tragic death of Chris Campbell, Chair of the Soap Box Derby committee. A highlight of the day was the Chris Campbell Tribute Soup can Soap Box which raced against last year's winner, the Boot.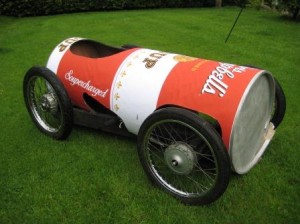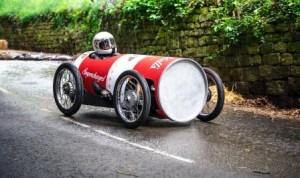 There was a record entry in 2014 and all proceeds from the day were split between BLESMA (75%) and the British Heart Foundation (25%).