Soap Box Derby 2018
Avon Dassett Soap Box Derby is back! The races will take place on 23 June 2018.
Entries are now CLOSED.
For more information check here or see the Facebook page @AvonDassettSoapboxDerby.
To find out about other Soapbox Derby races visit: http://scottishcarties.org.uk/
Timetable
All timings are approximate.
0900 – Road through Avon Dassett closed. Parking available in Cemetery Carpark
0900 – Scrutineering, The Yew Tree Carpark
0930 – Junior Practice Run
1030 – Junior Race
1145 – Junior Presentation of Trophy/Medals
1200 – Senior Practice Runs
1330-1500 – Senior First Race
1530-1700 – Senior Second Race
1730 – Senior Presentation of Trophy/Medals
1800 – Live Music @ The Yew Tree
The Yew Tree is open all day with BBQ, Ice Cream Stall, Outside Bar
Soap Box Derby 2015
The 2015 event took place on Saturday 20th June. In spite of the appalling weather, and having to abandon the races on safety grounds, the Avon Dassett Soapbox Derby raised £2500 for BLESMA and £500 for Macmillan Nurses, the supported charites.
Many thanks to Colin Smith and Graeme Miller who worked tirelessly to organise this year's event.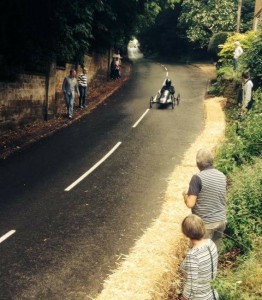 See this report from the Lentus team for information on the challenging conditions.
Report from the Chairman of Avon Dassett Soap Box Derby
THE CART RACE 20TH JUNE 2015.
The total raised from the event was £3750.00 less expenses for food and drink and printing etc., the amount available for donation was £2000.00 to BLESMA and £500.00 to McMillan Cancer Support.
The race itself was somewhat brought to any early end due to a massive downpour about 1430 hrs which brought things to a standstill for the best part of an hour.
When racing resumed there was a large amount of standing water on the course and the Race Director with my full backing decided that it was too dangerous to continue and stopped the race.
The good side was we raised a large amount for our charities due to the help of Vicky and Alistair from Fenny , Kevin Dancer, Tony Parks and Jerry Davies and above all the support of the British Army who without there support the event would not have gone ahead.
For the future, Colin has stood down as Race Director, but I have a number of experienced motor racers who want to help, also BLESMA want to enter a cart with a limbless veteran driving.
I have had contact from existing racers who want the race to continue as it is the only race where they can race head to head with other carts. All this is subject to the Avon being open and me getting support from them and also having a dedicated support team on side.
I am also considering a Kiddies' race starting from the Old School House but all this depends on getting people on side to help.
So the bottom line is that the race can go ahead but only with the support of willing dedicated helpers.
Once again my thanks to all who helped and I will make a decision re. GO or NO GO in Jan/Feb 2016.
J. G. Miller, Chairman Avon Dassett Soapbox Derby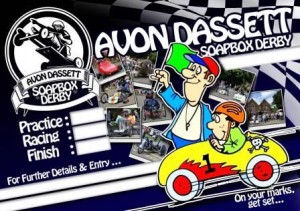 Supported Charities
Each year, the Soap Box Derby raises thousands of pounds for good causes. Every year, 75% of proceeds are donated to Blesma and the remainder is distributed to other supported charities. This year, the supported charities will be Blesma (75% of proceeds) and Macmillan Nurses (25% of proceeds).
Report on 2014 Soap Box Derby
The ever popular Avon Dassett Soap Box Derby took place on 14 June 2014. It was a bitter sweet occasion this year following the sudden and tragic death of Chris Campbell, Chair of the Soap Box Derby committee. A highlight of the day was the Chris Campbell Tribute Soup can Soap Box which raced against last year's winner, the Boot.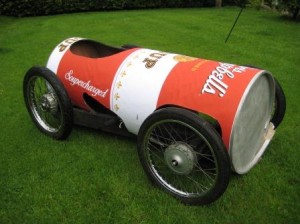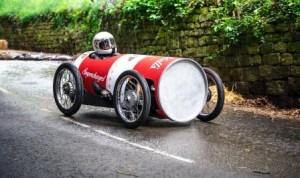 There was a record entry in 2014 and all proceeds from the day were split between BLESMA (75%) and the British Heart Foundation (25%).