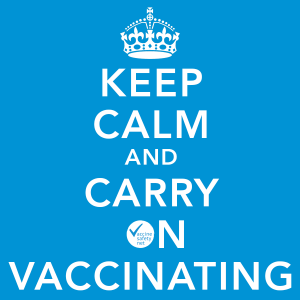 During Covid-19 Warwickshire GPs have reported a drop in the uptake of pregnancy, infant and pre-school booster vaccinations.

Good vaccination coverage is essential to avoid a local resurgence of serious vaccine-preventable diseases, such a Measles, Meningitis and Whooping Cough, which could have a major impact on women, children and vulnerable groups, as well as placing a significant pressure on our local NHS.

Of particular concern is the risk of a Measles outbreak, as the vaccination rate in Warwickshire prior to Covid-19 was low at 88% for MMR (2nd dose) whereas 95% uptake is required for herd immunity.

To help promote the importance of attending or re-booking scheduled vaccination appointments during Covid-19, a campaign will be launching on Monday 29 June #CarryOnVaccinating.

We need your support to help share campaign messages as far and wide as possible.

The #CarryOnVaccinating campaign will run for 4 weeks, with a different focus each week:
Week 1 – Campaign launch
Week 2 – Pre-school booster
Week 3 – MMR vaccine
Week 4 – Pregnant women
The #CarryOnVaccinating campaign pack contains social media messages, a suggested newsletter article, and various other resource materials. Click here to download the pack
A dedicated campaign resource page is available here and contains a variety of materials to help share messages through your channels. Contents on the campaign page include
Posters
Social media images
The posters and social media images will also be translated into a range of languages and available in the coming days
Please keep an eye on the campaign page as more resources are released throughout the 4 week campaign.
Please contact dphadmin@warwickshire.gov.uk if you require more information.
Follow Public Health on Twitter @WCCPublicHealth and Facebook @PublicHealthWarwickshire for all the latest #CarryOnVaccinating messages.
Thank you for your support
Dr Shade Agboola 
Director of Public Health
Warwickshire County Council