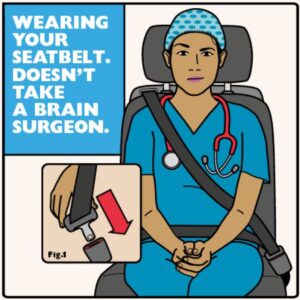 Warwickshire Road Safety Partnership has announced the results of a seatbelt road safety campaign in May and June.
The campaign used the well-known phrase 'it doesn't take a brain surgeon' to demonstrate that wearing a seatbelt is simple not requiring much effort and asked drivers and their passengers, to check everyone always wears a seatbelt on every journey.
Although simple to do, 86% of men (37 men) and 14% women (6 women) in the 39 vehicles (17 cars and 22 vans) stopped by officers during the National Police Chief Council seatbelt enforcement operation 12-25 June 2023 had chosen not to wear a seatbelt – even though it is one of the simplest and most effective things you can do to reduce the risk of injury in a collision to yourself and your passengers.
As a result, 6 people were given words of advice and 37 people received Traffic Offence Reports. The vast majority – almost all – were over 25 years old.
PC Simon Dalby, Operational Patrol Unit said "Most people we see during our patrols do wear a seatbelt because wearing a seatbelt is such an easy thing to do and it could save your life. But seatbelts only work if you are wearing one and there are still a reluctant or forgetful few that don't.  That's why we will continue to run regular operations to detect those not wearing a seatbelt to help educate drivers and passengers.
"Our work with National Highways on operations such as Tramline is particularly important because we target some of the fastest roads in Warwickshire looking for driver and vehicle offences and shockingly seatbelt offences make up around 20% of these.  That's why new technology such as the National Highways Sensor van that uses AI is so exciting. It is a game changer as it can look at extremely high volumes of drivers on our roads and detect whether they are wearing a seatbelt.  With all these changes we really would urge the most reluctant drivers and passengers to please belt up."
To help encourage the final few people that don't currently wear seatbelts, PACTS the Parliamentary Advisory Council for Transport Safety is calling on the government to increase the penalties for those not belting up.
Philip Seccombe, Police and Crime Commissioner for Warwickshire and Chair of WRSP said "Most people wear a seatbelt because it's such an easy thing to do. Camera detection technology is coming on in leaps and bounds and it won't be long before we can detect every driver who is not wearing a seatbelt.  If you are one of the minority that doesn't belt up please take responsibility for your own safety on the roads and the safety of your friends and family in your vehicle by always wearing a seatbelt. "
During the campaign information and daily facts were shared on social media about seatbelts and how to travel children safely. 
Whilst over 14-year-olds, are responsible for their own seatbelt use, small children are extremely vulnerable and need to be transported by adults with great care.  
Between 22-26 May 2023, free child car seat checks were offered to parents, grandparents and those responsible for safely transporting children and young people at supermarkets or garden centres in Rugby, Warwick, Stratford-upon-Avon, Nuneaton and Atherstone by 'Car Seat Ladies' who are experts in the field of car seat safety and IOSH accredited in car seat training.
They demonstrated how important it is to get your child car seat checked because they found that 80% of the child car seats checked were not correctly fitted.
Over the 5-day period, a total of 130 seats were checked and only 26 were fitted perfectly with no adjustments needed. The average age of children attending the event was 2 years old.
The Car Seat Ladies made adjustments on 99 occasions (76%) to make sure the seat and/or child left the location perfectly fitted.
One child had no seat at all, yet was under 12 and under 135cm tall – he was in fact only 2 years old!
The most common issue found with seats was the car's own headrest interfering with their fitting. With children, the major two areas of concern were because the headrest of the child restraint was in the wrong position and child harnesses were too loose.
Warwickshire Fire and Rescue Service also attended the child car seat events to offer vehicle safety and maintenance advice, including checking tyres, oil and screen wash levels. The team also supported drivers to undertake these checks themselves.
More child car seat checks are planned, and these will be promoted in local media and on social media.  Please follow us on Facebook @WarwickshireRoadSafety and Twitter @WarksRoadSafety for road safety information and advice.