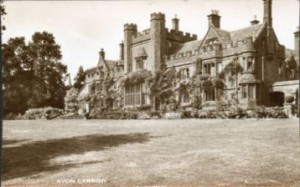 A planning application that proposed to build two large houses on farmland adjacent to the Grade II listed, historic house of Avon Carrow was refused by Stratford District Council on 18 August. Avon Carrow was built by Cecil Boyle at the end of the nineteenth century. It was bought by the Profumo family in 1926 and it was from the Carrow that John Profumo escaped the press when the spy scandal was exposed in 1963.
The planning officer at Stratford recommended that the application be refused on two grounds:
1. The placement of new residential development outside of the existing settlement pattern detracted from and confused the legibility of the established characteristics of the village Conservation Area. The proposal, thus would negatively affect the existing experience of Avon Carrow as the dominant element within the landscape on the south east side of the village. As such, harm would be caused to the buildings' special historic and architectural interest and the development would therefore fail to preserve the setting of the Listed Building.
2. The proposal would introduce residential development into an open and green agricultural setting and not be sensitive to the Special Landscape Area.
In proposing the motion to support the planning officer's recommendation and refuse the application, Councillor Louis Adam (Long Itchington and Stockton) said that he had to take into account the numerous objections from local residents. Councillor Bill Fleming(Bidford West and Salford) who seconded the motion noted that over 20 objections had been received which was striking for such a small village.
The proposal to refuse the planning application was carried by 6 votes to 2.