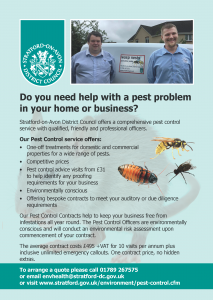 Stratford-on-Avon District Council offers a comprehensive pest control service with qualified, friendly and professional officers.
The Pest Control service offers:
One-off treatments for domestic and commercial properties for a wide range of pests.
Competitive prices
Pest control advice visits from £31 to help identify any proofing requirements for your business
Environmentally conscious
Offering bespoke contracts to meet your auditory or due diligence requirements
Pest Control Contracts help to keep your business free from infestations all year round. The Pest Control Officers are environmentally conscious and will conduct an environmental risk assessment upon commencement of your contract.
The average contract costs £495 +VAT for 10 visits per annum plus inclusive unlimited emergency callouts. One contract price, no hidden extras.
To arrange a quote please call 01789 267575 or email envhealth@stratford-dc.gov.uk or visit www.stratford.gov.uk/environment/pest-control.cfm