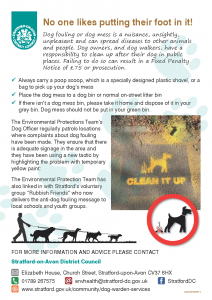 Dog fouling or dog mess is a nuisance, unsightly, unpleasant and can spread diseases to other animals and people. Dog owners, and dog walkers, have a responsibility to clean up after their dog in public places. Failing to do so can result in a Fixed Penalty Notice of £75 or prosecution.
Always carry a poop scoop, which is a specially designed plastic shovel, or a
bag to pick up your dog's mess
Place the dog mess to a dog bin or normal on-street litter bin
If there isn't a dog mess bin, please take it home and dispose of it in your grey bin. Dog mess should not be put in your green bin.
The Environmental Protections Team's Dog Officer regularly patrols locations where complaints about dog fouling have been made. They ensure that there is adequate signage in the area and they have been using a new tactic by highlighting the problem with temporary yellow paint.
The Environmental Protection Team has also linked in with Stratford's voluntary
group "Rubbish Friends" who now delivers the anti-dog fouling message to
local schools and youth groups.