This June saw the first of what is hoped to become an annual fixture.  A mini festival party to commemorate the birthday of Thomas Perry, the gentleman who gave the Reading Room to the village.  Many thanks to all those who contributed, and to those who came along to support this event.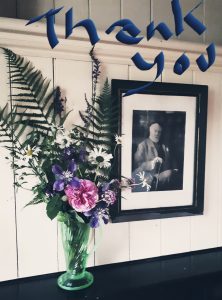 With a literature theme, we enjoyed tea & cake and local authors were able to showcase their books. Angela Perry's children's book "The Adventures of Alfie" proved very popular, as well as books from Ian Mathie, Roy Jenkins, the Avon Dassett history book and a cookbook from Shutford.
There were many posts on the "Recommendations Board" which included:
Bill Bryson, "Notes From a Small Island", non fiction, light, easy, humorous,
Khaled Hosseini " A Thousand Splendid Suns",
David Nicholls "Us", fiction, excellent,
Santa Montefiore "The Temptation of Gracie", A fab book, love it, love it, (P.S. it's rude),
Antonio Iturbe "The Librarian of Auschwitz"
David Walliams, "Gangsta Granny", a children's book really but much enjoyed by an adult.
 The Banbury branch of Oxfam Books brought some of their wares, and made £127.50 from sales and donations.
Next year, 2020, marks the 200th Birthday Anniversary, so make a date in your diary to come along to The Reading Room on Saturday 13th June.