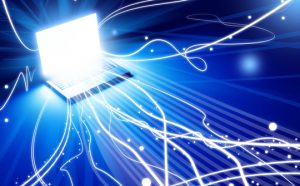 Did you know that superfast broadband may now be available to you?
To see if you can get it:
Check whether fibre broadband is available to you by entering your landline number or address into the BT DSL checker.
If fibre is available, either 'VDSL' or 'WBC FTTP' will be listed at the top of the 'Featured Products' column on the left hand side of the results table along with the maximum and minimum speeds you are likely to achieve.
Remember, that if fibre is available, you will need to order a fibre broadband package. You will not receive the upgraded service automatically. To research and find a fibre broadband package that suits your needs, you might like to use a broadband comparison site such as:
Fibre not available yet?
Register here to be updated with future developments that may affect you.
What are the benefits?
Having access to faster broadband not only lets you browse the web faster, but helps businesses stay competitive and allows individuals, families and communities to make use of opportunities that wouldn't otherwise be possible:
Choose the Internet Service Provider you want – the CSW Broadband project ensures that you are not limited in your choice of suppliers
Get online instantly with no slow dial-up connections
Talk face-to-face with friends and family using Skype or other software
Stream HD films, TV shows and videos without buffering slowing you down
Quickly and easily share your photos with friends and family
Upload pictures and documents seamlessly
Work from home when you want – now you can really compete in the global marketplace
Reduce workplace costs by introducing remote working and hot-desking
See how superfast broadband is already benefitting other communities.
Please Note: Even though your cabinet may have been upgraded, not every property connected to it is guaranteed to benefit due to some properties' distances from the cabinet and/or quality of copper connections. For more information see these FAQs.