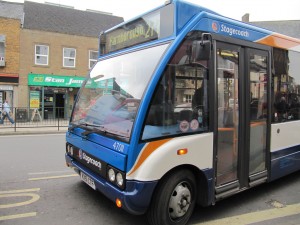 The 75 Public Bus service operating from The Parade in Leamington, down the Tachbrook Road and out to Bishops Tachbrook that was introduced in June has carried very few passengers and consequently will cease operation from Monday 19th December 2016.
However, a New 76 service will be introduced by Stagecoach to replace some of the route currently served by the 75.
The service will run every hour during the day from Leamington Upper Parade via Old Warwick Road (for the Railway Station and Morrisons), Shires Retail Park, Queensway (providing a new off peak facility to this area), Tachbrook Road, Heathcote Lane, Othello Avenue, Tachbrook Road, Harbury Lane towards Warwick Gates, Heathcote Lane and turning at Hawkes Drive roundabout to stop at the new stop to be put up just past the junction to Nightingale Avenue (new David Wilson site) before returning back to Leamington.
Following negotiations, the current 77 service operated by Johnsons Coaches will be revised and re-routed around Bishops Tachbrook village with a route to Leamington to cover parts of the 75 service and to serve the new development on Oakley Wood Road. Both the new 76 and revised 77 services will start operating from Monday 19th December 2016.
The 76 and 77 timetables are here: