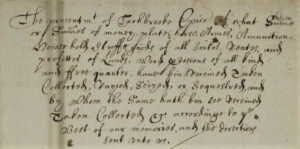 An exciting project has transcribed the loss accounts from the Civil War which took place in England between 1642 and 1646. Parishes like Avon Dassett were called upon to quarter and provision troops and horses from both sides, as well as supply money, goods and even arms. The village was also taxed to support the garrison at Warwick castle. After the war, parishes were encouraged to submit details of the losses they had suffered during the conflict and the compensation claimed. There is no evidence if this was ever paid or not.
The only local person named in the Avon Dassett accounts is Richard Woodward, described as a gentleman but he does name the officers and regiments who passed through the village and the support that was given.
The records give a fascinating insight into this troubled period of British history and shed light on how it affected ordinary communities.
The Avon Dassett accounts may be viewed on the Warwickshire County Record Office website. The transcriptions were done by volunteers led by Dr Maureen Harris.