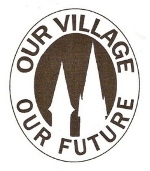 WHERE: St John the Baptist Church
WHEN: Sunday, 6 February, 1100-1300
REFRESHMENTS: Tea, coffee and cake will be served
Many thanks for completing the parish plan questionnaire. They have now all been analysed by Stratford District Council and there will be an exhibition in St John the Baptist Church to see the results.
You will be able to vote on some proposed actions and suggest others.
A formal report and action plan will be produced which will then go to Avon Dassett Parish Council for adoption. Each household in the village will get a copy of the report.
WE HOPE TO SEE YOU AT THE EVENT AND LOOK FORWARD TO YOUR THOUGHTS ON ACTIONS TO IMPROVE THE VILLAGE.
If you are able to make a cake, please contact Liz Hirst on lidhirst@yahoo.co.uk or 07811 343556