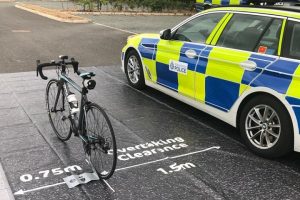 Warwickshire Road Safety Partnership is asking all road users to please #ShareTheSpace as part of a national NPCC campaign between 6 -19 September 2021 that aims to improve the safety of the increasing numbers of cyclists, pedestrians, horse riders and motorcyclists using the county's roads.
During the campaign Warwickshire Road Safety Partnership will be distributing hi vis tabards and other hi vis items carrying the 'Let's Share the Space' branding and Community Speed Watch groups will also be active to monitor speeds in local communities as lower speeds help to reduce death and injury on our roads.
Since lockdown we have seen a huge increase in the number of walkers and cyclists and people generally using our roads for leisure and this looks set to continue. The Government has said that in 2020 the number of miles cycled on British roads increased by 45.7% to 5bn. 
Exercise is great for our mental and physical wellbeing and something we all want to encourage. However these road users need to feel safe and we are asking the public to be aware of these less protected road users and to give them more time and space in order to ensure their safety on our roads. 
When we look at national road casualty statistics, the number of pedestrians, cyclists, bikers and horse riders that are fatally injured is low.  However when we look at this per mile travelled more motorcyclists die on our roads each year than any other road user, followed by pedestrians and cyclists.   This really puts things into perspective.
Even during lockdown in 2020, when less people were using the roads, 2 (4 in 2019) cyclists, 3 (12 in 2019) bikers and 2 (8 in 2019) pedestrians lost their lives on Warwickshire's roads.
Vehicle drivers looking out for vulnerable road users is only part of the picture however.  During the campaign we will also be offering advice to cyclists, walkers, horse riders and bikers on what they can do to help keep themselves safe on the roads.
This includes reporting and submitting digital footage showing potential moving traffic offences including dangerous driving around other road users, such as horse riders and cyclists to Warwickshire Police via Operation Snap https://www.warwickshire.police.uk/operationsnap
PS Shaun Bridle said "Pedestrians, cyclists, bikers and horse riders do not have a metal shell around them like a driver does sitting in a vehicle and even relatively minor contact can seriously injure them.  That's why they need vehicles to 'ShareTheSpace' on the roads and pass pedestrians, cyclists, motorcyclists and horse riders wide and slow.
"September is a peak month for motorcycle collisions and that's why the campaign is happening now.  The campaign also coincides with children returning to school after the summer break."
WRSP Chair and Police and Crime Commissioner for Warwickshire, Philip Seccombe said "We are encouraging cyclists, pedestrians, horse riders and bikers and all road users to take part in the current public consultation on the proposed road safety 'Strategy to 2030' as we need feedback from all road users.   We all benefit from making it easier for people to cycle, walk and ride not only because of the huge benefits to people's health by staying fit, but active travel also helps road congestion, improves air quality and the environment so please look after other road users and 'ShareTheSpace'."
The public consultation on Warwickshire's road safety 'Strategy to 2030' can be found on the WRSP website www.warksroadsafety.org
WRSP also welcomes the publishing of the new version of The Highway Code in the autumn with a range of anticipated updates including a new hierarchy of road users that ensures road users who can do the greatest harm have the greatest responsibility to reduce the danger they may pose to others and strengthened pedestrian priority on pavements and when crossing or waiting to cross the road.  WRSP is also anticipating new guidance on safe passing distances and speeds and around ensuring that cyclists have priority at junctions when travelling straight ahead. 
Please follow and like us on Facebook @WarwickshireRoadSafety and on Twitter @WarksRoadSafety or search #SharetheSpace.   Please remember, we need your help to make our roads safer for everyone.