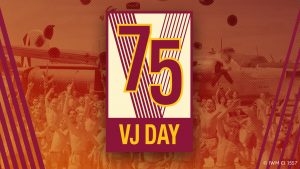 Save the date!
Following a very successful commemoration of the 75th anniversary of VE Day on 9 May 2020, Avon Dassett will be celebrating the 75th anniversary of the end of the war (VJ Day) on Saturday 15 August. Villagers are asked to gather at The Yew Tree from 1500 hours. There will be:
A mini exhibition of Avon Dassett and WWII prepared by the Local History Group and hosted by The Yew Tree
A special reprise of the 1940s Sing-along-a Sally at The Yew Tree. Song sheets here
Bunting and village decorations
Flowers at the War Memorial to remember those who lost their lives in the conflict
Cream Teas available to pre-order from The Yew Tree (£4.50 each) but villagers are also welcome to bring picnics to the pub or in their garden as they did on VE Day
Villagers are invited to decorate their properties with bunting and/or wear a poppy/white chrysanthemums (the Japanese flower which commemorates loss)
The Union Jack will fly from the flagpole at the play park
The whole day is being co-ordinated by Councillor Liz Hirst.
The official poster: