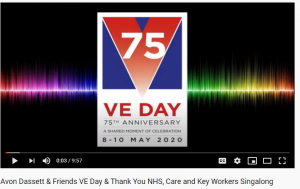 Thanks to Sally Crompton who has co-ordinated this fantastic 1940s Sing-along for VE Day (with a special additional song to thank the NHS/Care and Key workers).
The singalong may be found on YouTube: https://youtu.be/ig6ZePTGMsU
And the song sheet is here:
The YouTube video will be broadcast throughout the village at 3 pm with some live singers (socially distanced of course) to lead the village in a communal sing song.
Villagers are encouraged to be in their gardens from about 2 pm to enjoy a picnic to commemorate VE Day.