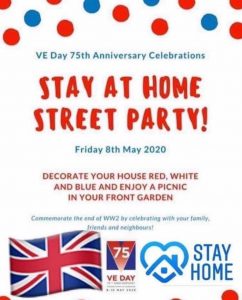 If you like the idea then perhaps as an Avon Dassett resident you would like to arrange something yourself in your front garden along the lines suggested in the poster, on the afternoon of Friday 8th May from, say, 2pm. A street party atmosphere could be created, especially for those properties along the road through the village. Obviously, the government's social distancing rules should be observed at all times. Avon Dassett Parish Council will also 'host' the party on Zoom-free of charge, logon details to follow. For more information please contact Liz Hirst.
PLUS
1) Union Jack bunting will be available to borrow if you are unable to source your own
2) Singalong Dassett and Friends are preparing a recording of 1940s songs to be played via YouTube and possibly broadcast from outside the Yew Tree just after 3pm on Friday 8th. It's not too late for volunteers who can sing, play instruments or would like to dance the Lambeth Walk to be included in the recording, so please contact Sally.   Song sheets will be available or can be downloaded here.
3) Free 1940s style commemorative newspaper for every household in the village. Contains local information from that time along with stories from villagers remembering their families' contribution to WWII, all put together with a lot of hard work by our Local History Group.