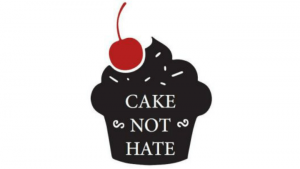 The event is taking place on Saturday 19th October at the Royal Spa Centre, Leamington Spa CV32 4HN, 11:00 – 14:00.
The event is free, but we are hoping as many attendees as possible bring their own homemade cakes & bakes to share. We have Trish Adudu returning as our emcee this year, and our main speaker is Figen Murray. Figen's son, Martyn Hett, was one of the 22 people who lost their lives in the Manchester Arena Attack. Figen will deliver a powerful and inspirational talk about her experience of forgiveness and messages to bring communities together.
We will also have a drama piece delivered on the day depicting how a local hate crime was dealt with in Warwickshire; this will be followed by a Q&A expert panel of Warwickshire Police, the Police and Crime Commissioner and the Crown Prosecution Service, for attendees to ask them questions.
Attendees can book on to the event by going to https://www.eventbrite.co.uk/e/warwickshires-cake-not-hate-get-together-2019-tickets-68125949549