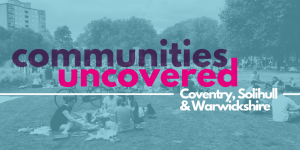 Calling Coventry, Solihull & Warwickshire!
We're asking community, voluntary and grassroots organisations in Coventry, Solihull and Warwickshire to complete our online survey.
The survey will form part of our Communities Uncovered research project which is being delivered by Coventry University.
Communities Uncovered is vital to our vision and priorities.
This short questionnaire will enable us to assess the needs of the region, ensuring we continue to be at the forefront of local giving.
These answers WILL shape funding opportunities in YOUR community! 
Deadline: 9th August 2019
Thank you for your continued support!