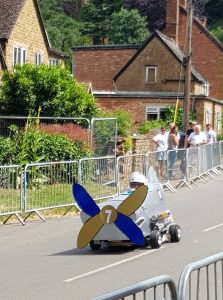 Sarah Richardson of the Avon Dassett Soapbox Derby team was interviewed by Phil Upton on Coventry and Warwickshire radio's Breakfast Show on 31st May 2019. Phil, who is a keen cyclist, knows the hill in Avon Dassett well and was keen to hear about the race. The Soapbox Derby is rapidly becoming legendary in the county.
To hear the interview on listen again (during the newspaper review at 0740) please go to: https://www.bbc.co.uk/sounds/play/p0786jk3
Sarah also recorded an interview with Keith Wedgbury who presents Wedge's Raw and Rural on Saturday mornings.