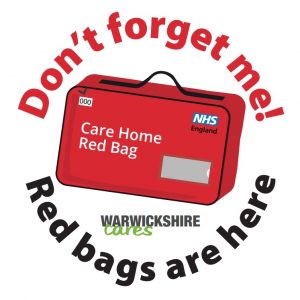 The national NHS Red Bag scheme is launching in Warwickshire with an initial cohort of 32 Older People care homes across the county.
The scheme aims to help facilitate a quick, safe and well organised handover of care when a care home resident is admitted to hospital.
A dedicated Red Bag is packed that contains everything needed during their hospital stay including information about their health condition.
Bags are provided free of charge to providers, with sufficient bags allocated according to the size of the home and resident needs.
How the Red Bag works
When a resident becomes unwell and is assessed as requiring hospital admittance, care home staff pack a Red Bag for them which includes everything they need to make their stay as effective as possible. This includes:
Information regarding their care needs and medical history
Any other relevant documents (e.g. This Is Me, MAR sheet, DNAR etc)
Change of clothes
Personal belongings (e.g. toiletries, book)
Any aids required (e.g. hearing aid, glasses)
The bag is passed over to ambulance staff when picking up the resident. It then stays with the resident throughout their hospital stay and allows them to keep their belongings together, as well as giving hospital staff one eye-catching place where they can find up to date information around their care needs and medical condition.
Upon discharge, hospital staff also include a copy of the discharge summary and information about how the resident's needs may have changed.
Benefits of the Red Bag
Improved communication and information sharing between professionals
More efficient ambulance pickup
Health staff can more easily determine the best course of treatment and provide person centred care
Fewer phone calls between hospital and care home determining needs of resident
More effectively planned discharge
Fewer lost belongings
Better experience for the resident who feels more in control and has reduced impact from the deconditioning related to longer hospital stays
READ OUR RED BAG FREQUENTLY ASKED QUESTIONS (FAQS)
1. What is the Red Bag?
The Red Bag is a national NHS scheme which is designed to improve the experience for care home residents when they are admitted to hospital. When the resident is decided to be admitted, a bag is packed with everything they need to make the hospital stay as effective as possible. This includes essential information that health staff will need, as well as relevant personal belongings of the resident.
2. Does each care home resident get their own bag?
Only a small number of residents are likely to be admitted to hospital from the same care home at any one point in time. Therefore the bags are allocated to each care home on a 1:10 baseline (i.e. 1 bag for every 10 residents), with some extra bags allocated to take into account those homes which most frequently admit to hospital.
3. Is this scheme for care home providers only?
Initially the scheme is being rolled out to Older People care homes only. However, the principles and benefits of the project could apply wherever there are people in a care setting who may quickly require admittance to hospital. Therefore it could be scoped for implementation in other services in the future.
4. How is the scheme being implemented in Warwickshire?
Initially the scheme will be implemented with a first phase of 32 homes across the county. Homes follow a series of checks in preparation before they are issued with their bags.
5. How were the care homes for the first phase of the scheme selected?
The homes were selected on the basis of being those homes across Warwickshire who most frequently admit residents to hospital (i.e. because they are bigger homes or have residents with higher level needs). This means that the scheme will quickly be reaching the places where its benefits will be most felt.
6. Is participation in the Red Bag scheme mandatory?
The scheme is not mandatory for providers as some may already have similar processes in place. The scheme is also not mandatory for individual care home residents who are free to opt out.
However it is hoped that the benefits of adopting the Red Bag scheme are clear – engagement with providers and hospital staff has proved that it is very welcome and improves the patient experience and the communication between care homes and hospital. It also makes sure that everybody is using the same standard process across the county.
7. What goes into a Red Bag?
The bag includes everything needed to make the resident's stay in hospital as effective as possible. This includes standardised information about their care needs, medical history and preferences. It also includes any personal belongings that will be needed during the stay.
8. Does medication also go in the bag?
Medication is not put in the bag when the resident is admitted from their care home, as all their needs will be met by health staff in hospital including administering of meds. The only medication involved is when TTOs (To Take Out) meds are included when the resident is discharged back to the care home.
9. Should valuables be put into the bag?
Red Bags are designed to carry the residents personal belongings into hospital and they are free to include valuables. However our advice would be to discourage including irreplaceable items if possible. Although the bag is designed to reduce the risk as much as possible, items can still get lost while in hospital.
10. What happens if the bags get lost?
The bags are tracked as closely as possible including having the contents checked and signed for whenever they are handed over to the next person. They also have a unique ID number to track individual bags in the system. If bags are found they have clear visible guidelines about where to return them.
11. Are the bags free of infection risk?
To reduce risk of infection and cross contamination, there is a clear and thorough cleaning protocol to be followed by care staff when each bag returns to the care home. This is to be completed before the bag is used again.
If you have any further questions please contact bettertogether@warwickshire.gov.uk