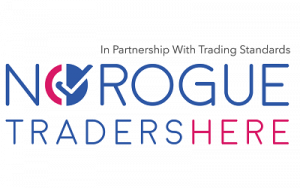 No Rogue Traders Here is a privately run approved trader scheme in partnership with; Birmingham, Solihull, Wolverhampton and now Warwickshire Trading Standards.
The scheme is a managed network of businesses, rather than a list. Each one has been through a very detailed vetting process, including intelligence checks from each participating Trading Standards Service.
Warwickshire residents can simply register either online at https://www.noroguetradershere.com/or by freephone 0800 233 5000 and use the scheme free of charge. They just need to register their basic details, confirm the type of trader and the work they require.
The customer will then receive a profile of up to 3 scheme members, depending on the size of the job, who meet their requirements.
The consumer contacts the traders to get quotes and then makes a decision.
A written quote/contract is drawn up by the chosen trader and a start date agreed.
NRTH monitor the contract, to make sure the quotes are clear, complete, fair and accurate.
When the work is completed, NRTH then contact the consumer to check that they are happy with the result. The administration of the scheme is carried out by NRTH, including the registration of traders and consumers.
The number of Warwickshire residents registering with NRTH has been good so far and has reached 1037 since January 2017, but incidents of residents being ripped off or experiencing difficulties is still too high and awareness across the whole county needs to be raised.
Registered Traders
There are approximately 46 businesses willing to work within Warwickshire, seven Warwickshire businesses have now registered with NRTH, since January 2017.
NRTH and Trading Standards try to be very thorough with their selection process and are very careful with choosing whom they allow onto the scheme.