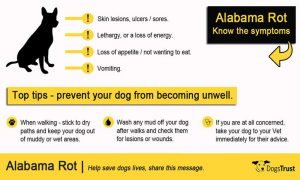 Unfortunately there has been a case of Alabama Rot – an often fatal disease for dogs – confirmed in Southam.  Please see below guidance from the Dog's Trust:
What are the symptoms?
Skin lesions, ulcers and sores
Lethargy, or a loss of energy
Loss of appetite and not wanting to eat
Vomiting
Tips to best prevent your dog from becoming unwell.
When out walking, where possible stick to dry paths and keep your dog out of muddy or wet areas
Wash any mud off your dog after walks and check them for lesions or wounds. If you see any, take your dog to the Vet to have a look, especially if they don't seem to be healing
If your dog starts to become unwell, or suddenly suffers from conditions such as lethargy or anorexia and begins to vomit, take them to your Vet immediately for their advice