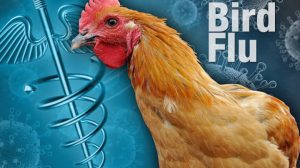 Bird flu has been detected in wild birds in Warwickshire, prompting a warning to poultry keepers.
Thirteen wild birds found dead in the county were confirmed to have the disease, leading the government to declare a bird flu prevention zone for the whole of England.
While the Food Standards Agency said bird flu did not pose a risk to food safety for people in the UK, the prevention zone aims to protect poultry keepers and other people who keep birds.
The Department for Environment, Food and Rural Affairs said testing of birds in Warwickshire was ongoing but it is was thought they had the H5N6 strain of the virus, which is different to the H7N9 strain which affected people in China last year.
Public Health England say the risk to public health from the H5N6 strain is "very low".
The prevention zone means all captive bird keepers in England – whether a few in a back garden or thousands on a commercial unit – must take immediate measures and remain vigilant.
Measures all poultry keepers need to follow include cleaning footwear before and after visiting birds; placing food and water in fully enclosed areas protected from wild birds; keeping a close watch on birds for any signs of disease; and reporting any sick birds or unexplained deaths to a vet.
People can report wild birth deaths to a Defra helpline on 0345 933 5577, and bird keepers should report suspicion of disease to Apha on 0300 020 0301.
Visit www.gov.uk/guidance/avian-influenza-bird-flu for further information.