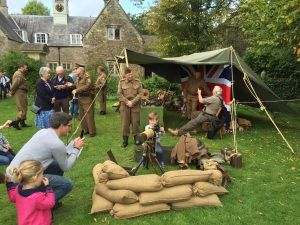 Running for 3 days from Friday 7th to Sunday 9th July, the Shelswell History Festival celebrates local history and rural heritage. From Saxon invasions and Civil War battles, hidden histories of the 10 Shelswell villages, WW2 Home Guard and Special Operations, to "lost villages" and country crafts, there's something for everyone. Created by a team of local residents, the event offers talks and workshops, demonstrations and displays, historical re-enactors, a play, a barn dance and activities for all the family, complete with BBQ, bar and Tea Tent.
The event is being held in Shelswell Park, in the countryside setting of Victorian author Flora Thompson's novel "Lark Rise to Candleford"
Shelswell Estate, Fringford, Bicester, OX27 8EF
The charity will raise awareness of local history and benefit local causes in the Shelswell area.
(Charity Number 1171846)
For more information and ticket details go to www.shelswellhistoryfestival.org.uk