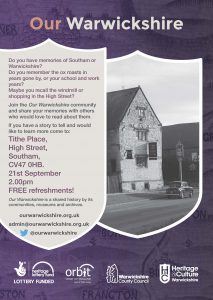 Do you have memories of Southam or Warwickshire?
Do you remember the ox roasts in years gone by, or your school and work
years?
Maybe you recall the windmill or shopping in the High Street?
Join the Our Warwickshire community and share your memories with others who would love to read about them.
If you have a story to tell and would like to learn more come to:
Tithe Place,
High Street,
Southam,
CV47 0HB.
21st September, 2.00pm
FREE refreshments!