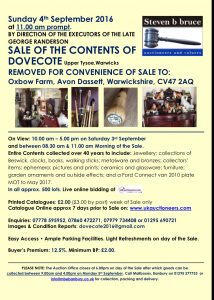 SALE OF THE CONTENTS OF DOVECOTE Upper Tysoe,Warwickshire at Oxbow Farm, Avon Dassett CV47 2AQ.
On View: 10.00 am – 5.00 pm on Saturday 3rd September and between 08.30 am & 11.00 am Morning of the Sale.
Entire Contents collected over 40 years to include: Jewellery; collections of Beswick, clocks, books, walking sticks; metalware and bronzes; collectors' items; ephemera; pictures and prints; ceramics and glassware; furniture; garden ornaments and outside effects; and a Ford Connect van 2010 plate MOT to May 2017.
In all approx. 500 lots.
Printed Catalogues: £2.00 (£3.00 by post) week of Sale only Catalogue Online approx 7 days prior to Sale on: www.ukauctioneers.com
Enquiries: 07778 595952, 07860 472271, 07979 734408 or 01295 690721
Images & Condition Reports: dovecote2016@gmail.com
Easy Access • Ample Parking Facilities. Light Refreshments on day of the Sale.
Buyer's Premium: 12.5%. Minimum BP: £2.00.