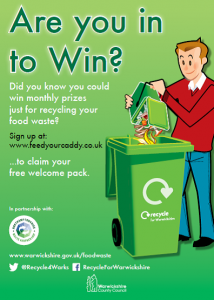 Warwickshire residents are being invited to join an acclaimed recycling rewards programme which started life in neighbouring Northamptonshire.
With 'I'm In to Win', residents have the chance to win prizes just by registering at www.feedyourcaddy.co.uk, pledging to recycle all their food waste and actively participating in the kerbside-collected food waste programme. Monthly prizes range from free leisure passes, experiences and days out as well as vouchers for local shops and restaurants.
After registering online at www.feedyourcaddy.co.uk or at a roadshow event, Warwickshire participants will receive a free welcome pack containing an 'I'm in to Win' sticker to attach to the lid of their green wheeled bin. Each month five stickered bins will be selected at random to win a choice of prizes. Forthcoming roadshow events are listed at www.warwickshire.gov.uk/foodwaste.
To help make food waste recycling even easier, Warwickshire district and borough councils have limited stocks of free kitchen food waste caddies – visit www.warwickshire.gov.uk/kerbside for further details.
Warwickshire's 'I'm In to Win' scheme is open to county residents only, and terms and conditions apply.