WARWICKSHIRE COUNTY COUNCIL
ROAD TRAFFIC REGULATION ACT 1984
 THE WARWICKSHIRE COUNTY COUNCIL (AVON DASSETT PARISH)
(30 MPH SPEED LIMIT) ORDER 2014
 Warwickshire County Council propose to make the above Order under the Road Traffic Regulation Act 1984 the effect of which will be to impose a 30 mph speed limit on the length of road mentioned in the Schedule below and Warwickshire County Council propose to revoke Schedule 1 item 1 of The Warwickshire County Council (Various Roads, Avon Dassett) (Restricted Roads) Order 1992 is hereby revoked.
A copy of the proposed Order, together with a plan showing the length of road affected and a statement of the Council's reasons for proposing to make the Order, may be inspected at the Main Reception, Shire Hall, Market Place, Warwick, at the Stratford District Council, Elizabeth House Church Street Stratford-upon-Avon Warwickshire CV37 6HX and at the Public Library, Henley Street Stratford-upon-Avon CV37 6PZ during usual opening hours.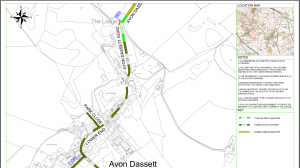 Any enquiries relating to the proposals may be made to Debbie Poynton, Communities Group, Warwickshire County Council (telephone number: 01926 4122076).
Any objections to the proposals, which must be in writing and specify the grounds on which they are made, should be addressed to Debbie Poynton, Communities Group, PO Box 43, Shire Hall, Warwick, CV34 4SX. (Objections will normally be treated as public documents and may be communicated to other persons affected.) Objections must be sent so as to be received by 18 September 2014.
SCHEDULE
(30mph Speed Limit)
The Avon Dassett – Wormleighton – Priors Marston Road (Dassett Road and Avon Dassett Road)
The length of road through the village of Avon Dassett from a point 110 metres south west of its junction with Dassett Road in a generally north easterly direction to a point approximately 36 metres north east of the boundary for The Lodge.
S Duxbury
Head of Law & Governance
Shire Hall, Warwick
21 August 2014