Our Nature Area was developed in 2009 from a small patch of land behind the village bus stop in the centre of the village which was of limited use, overgrown with weeds and brambles and a place which attracted litter. Avon Dassett lacks a village green or outdoor meeting place. This issue was raised in the 2007 Parish Plan survey, completed by 92% of village residents.
The first stage of the project was undertaken by the Warwickshire Probation Service 'Community Pay- Back' scheme. Eight workers cleared the area of weeds, dead wood and rubbish, created two compost bays and planted the first batch of daffodils. Village volunteers then planted a variety of spring and wild flowers, erected bat and bird boxes and put the rustic furniture in place. Many villagers donated seeds, bulbs and plants to the project and all the woodwork was made in the village. Woodchip, laid to keep the weeds at bay, was also donated by a local forester. The final piece of the project was put in place when we erected the sign on 24th April 2009 during a village 'spring clean'.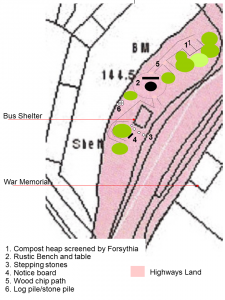 The Nature Area provides an accessible outdoor meeting place the whole village can benefit from, turning this unused and unattractive area into a peaceful and pleasant resting place. It is used regularly as a picnic spot for the many ramblers who walk through the village.
The project would not have been possible without a grant from the Public Realm Grant Scheme, Warwickshire Probation Service and village volunteers and craftsmen.