The Web Wise Project aims to help people over the age of fifty to get similar benefits from using the internet that younger people take for granted.  Eleven million people in the UK do not use the internet, yet often services and goods are most easily, and cheaply, available from the internet.  Older people, who do not use the internet, are increasingly at risk of being excluded from what are becoming "normal" life opportunities and activities.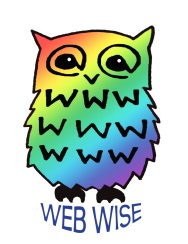 Web Wise is provided by Age UK Warwickshire, in conjunction with Stratford District Citizen's Advice Bureau.  We organise courses in local venues, like village halls.  Each course lasts six weeks, with one two-hour lesson each week.  The project is funded by Comic Relief.  We also work in partnership with Orbit Housing, Heart of England.
Web Wise courses are free.
Our courses cover the basic functions of the internet, including the World Wide Web, email and Skype (video calling), banking, shopping, and searching for information.  There is a particular emphasis on helping learners to save money, and to manage finances more effectively, by using services on the internet.
You may bring you own laptop or tablet computers, or you can use one of ours.  John Sawyer, the Project Co-ordinator, leads the courses and, where possible, there will also be Web Wise volunteers, who can give one to one support.   We try to tailor the course to individual needs, and to this end each learner is invited to do a self-assessment prior to starting the course.  Our next courses are at:
Stretton on Fosse Village Hall –  Wednesday afternoons, starting 12 August
Wellesbourne Church Centre – Tuesday mornings, starting 1 September
Southam Grange Hall – Monday afternoons, starting 7 September
Claverdon Church Centre – Thursday afternoons, starting 10 September
If you would like to attend one of the above courses, please contact:
John Sawyer on 07881 812943, or email john.sawyer@ageukwarks.org.uk or write to John Sawyer, Age UK Warwickshire, 8 Clemens Street, Leamington Spa, CV31 2DL
What will you be learning?
Lesson one: Introduction
Overview of course
Introduction to the internet and how to get on line
Introduction to web browsers and search engines
Practising basic search skills
Lesson two: Staying safe on line
Anti-virus and firewall
Password security
Awareness of scams
Awareness of fraud
Using secure websites
Using credit and debit cards
Avoiding exploitation
Advice from Warwickshire Trading Standards
Lesson three: Communication
Setting up an email account
Composing emails
Replying to emails
Forwarding emails
Attaching files to emails
Setting up a Skype account
Introduction to social networking
Lesson 4: Managing money more effectively
Online banking
Saving money on train tickets
Internet shopping
Improving search techniques
Lesson 5:  Increasing income
Getting financial advice
Getting the best savings rates
Selling things on eBay
Using Pay Pal
Using customer service terminals
Lesson 6:  Saving money on utilities
Cheaper gas and electricity
Cheaper broadband connections
Using social networking
Backing up
Review of course